Meet Dr. Choi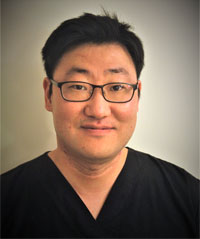 My goal in dentistry is to make every patient's dental visit as relaxing, fearless, and painless as possible. To achieve this goal, I always work hard to keep up with the latest and the most effective techniques in the field, and try to stay on top of the field.
My dental philosophy is to always place the patient first. I care about what they think and how they feel. I provide individual care for each patient, and it's very important for me that my patients understands everything, and feel comfortable asking any questions they have. I treat patients of all ages, and enjoy working with kids and elderly, and my hope is everyone leaves my chair with a big smile.
I was born and grew up in South Korea. After serving in the army, I came to the States to study dentistry in 2002. I have a little daughter, and I love spending time with her and with my family. I also like playing tennis, and watching movies.